Waste collection: the advantages of smart management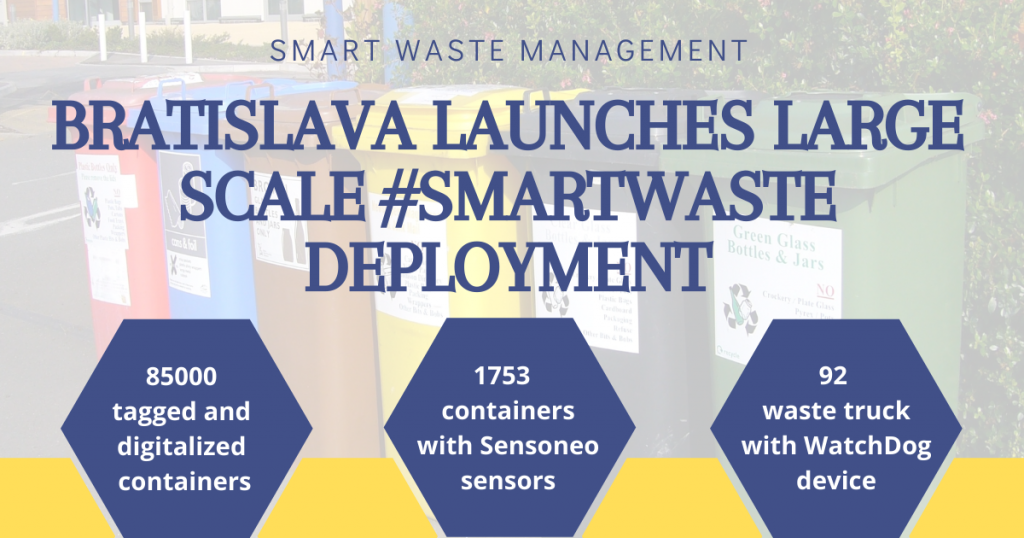 Savings in kilometres travelled and emissions related to waste collection, as well as early intervention in case of overfilled containers are the expected effects of the introduction of smart waste management technologies in the city of Bratislava. The Slovakian city announced the launch of a project in cooperation with Sensoneo aimed at digitisation and efficient waste collection. The project includes different phases that will be implemented until April 2022.
The digitisation of waste infrastructures is in accordance with the city's Municipal Waste Management Strategy with the objective of moving towards a circular economy for the years 2021-2026.
To achieve this goal, 85,000 containers will be digitised. Through RFID tags the bins will be identified and tracked and identification data will be available through the app.
Glass collection bins will also be monitored saving fuel and kilometers as well as time and emissions. These containers are particularly problematic due to their irregular filling cycle. Sensoneo's real-time sensors identify when collection is required, eliminating unnecessary pick-ups and ensuring that bins are not overfilled. Emptying these bins requires a vehicle with a hydraulic arm, which means additional costs and, in many cases, also traffic problems as emptying takes around 6-7 minutes.
The data from the monitoring will be used for automated optimization of waste collection routes with the goal of driving the lowest possible distance and maximizing vehicle capacity when returning to the depot. The routes will be available to drivers in Sensoneo's Driver Navigation app, which will not only save on fuel costs and travel time but also make it easier for new drivers to join.
The technological equipment is completed by the installation of 92 watchdogs on 92 collection vehicles. WatchDog will allow automatic identification of authorised waste collection bins and bags, automatic verification of the collection of each bin and the accurate recording of all routes taken. It will also allow real-time updates on current routes and truck positions on the map.

Sensoneo is a leader in the development of waste management solutions and is a business partner of HDM.
In this article we have presented just a few of the solutions available for more efficient waste collection and monitoring, if you would like more information please contact us.
In Italy, these technologies are not yet common. Their application brings many benefits, especially for the environmental impact, and represents the way forward for smart management and the future of waste collection.