Twitter Analysis: Eurovision Song Contest 2022 hosts unveiled
Given Måneskin's previous victory at the 2021 edition of the Eurovision Song Contest, as per the rules, Italy will host the 2022 edition.
In the past few days, the names of the hosts of the event to be held in Turin in May have been announced.
According to the Adnkronos newspaper, the people chose to host the contest are: award-winning singer Laura Pausini; presenter Alessandro Cattelan and internationally renowned singer Mika.
We start from the reactions that the announcement of the Eurovision presenters provoked in order to carry out our Social Observatory activity, proposing an analysis on social Twitter.
The analysis focuses on 24 January, the day on which the presenters were announced.
200 tweets were analysed, all close to the announcement of the presenters. Several hashtags were used, in particular #Eurovision2022, #ESCIta and #ESC2022.
The Contest reached a total of 13630 likes, 426 comments and 1127 retweets. Numerous profiles of private users have commented on the topic. Likewise, several profiles of radio users such as RTL 102.5, DiscoRadio, RadioItalia; gossip pages such as Trash Italiano; music journalists such as Mario Manca, Davide Maggio; newspapers such as Adnkronos and TorinoToday.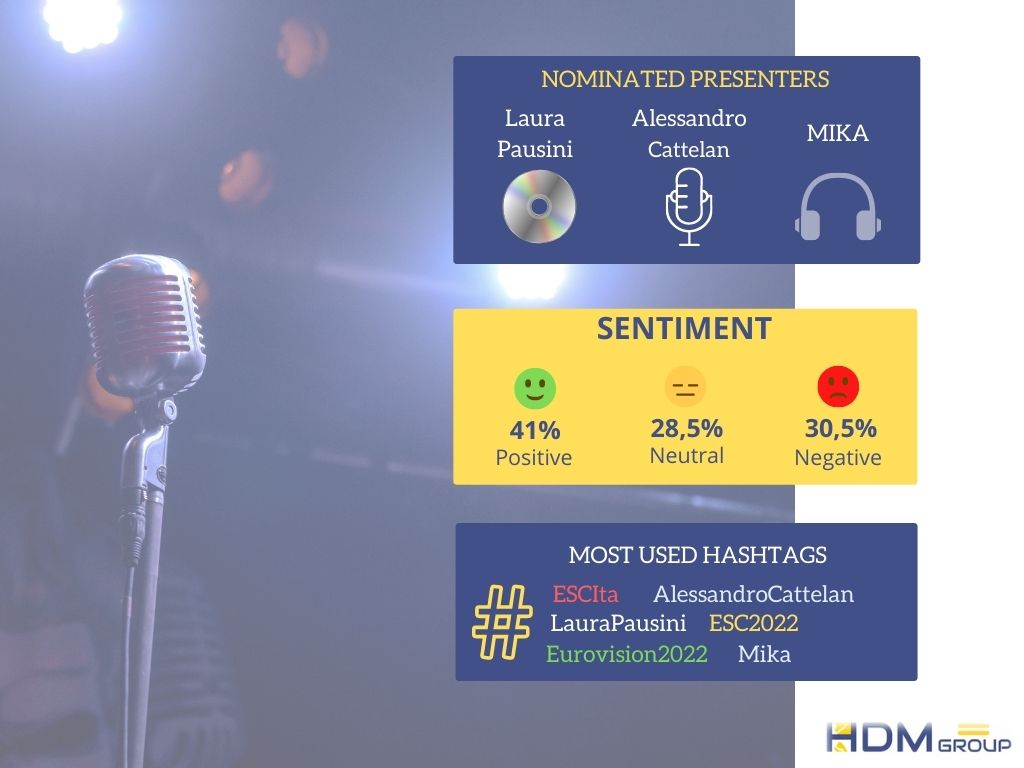 From the analysis of the tweets, the resulting sentiment was positive at 41%, neutral at 28.5% and negative at 30.5%.
Several parties led to a varied sentiment. All three presenters were praised or criticised. In many tweets, in particular published by private users, it can be seen that there is sympathy for one of the presenter and dislike for the other two. In addition, several users recommended different names for Rai to consider as a fourth presenter. The most popular names were: Milly Carlucci, Victoria Cabello and Chiara Ferragni.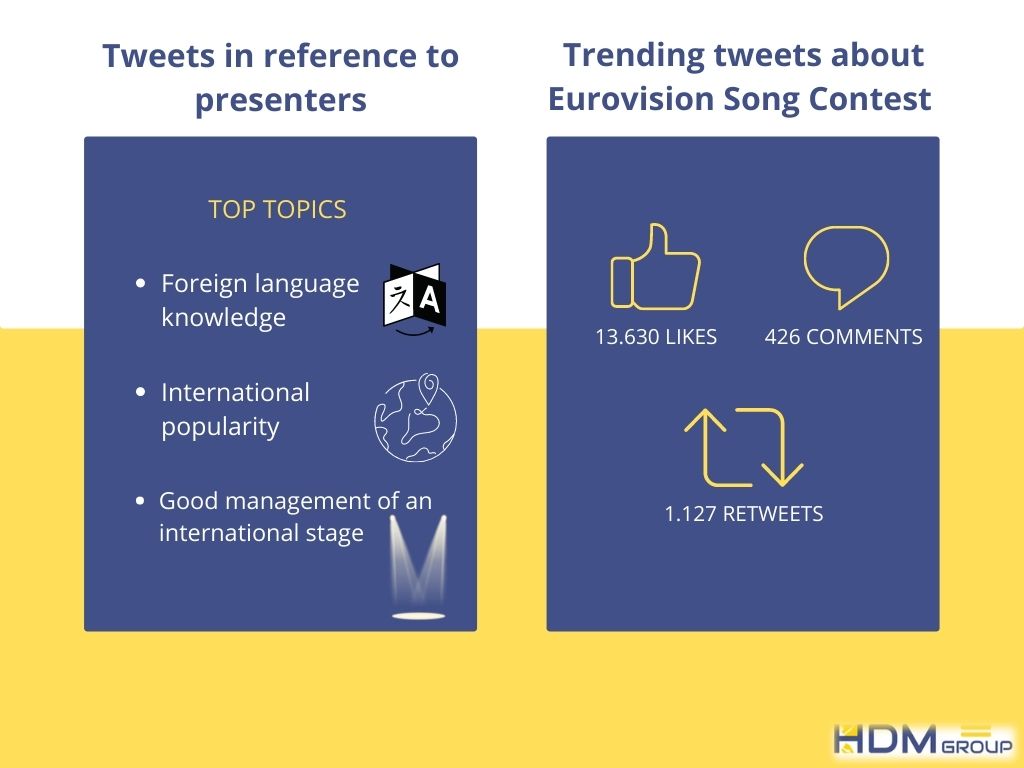 The positive sentiment included tweets referring to the skills of all three presenters. Skills ranging from knowledge of foreign languages (such as English, French and Spanish), to the international popularity of Laura Pausini and Mika, to managing an internationally renowned stage.
From previous statements, in an interview in 2015, singer Mika called the songs competing in the music contest "shameful". For this reason, users had an eye on his possible presence at the Contest.
At the same time as the names were announced, the logo for the next Eurovision Song Contest was also published. Many people like the logo in all its features. "The Sound Of Beauty" is the theme given to the contest by Italy.
There were no tweets in reference to the Coronavirus pandemic and the possible presence of an audience or not. The possible exorbitant price to attend the Contest and to stay in a hotel in the capital of Piedmont was much talked about.
HDM's Social Observatory aims to draw attention to the importance of information from social networks and the potential of web monitoring. Collecting and interpreting the enormous amount of data available on the web can enable companies to improve their positioning and develop new lines of business.