switch on and breathe clean air
Aura Smart Air is the world's smartest air purification system, one that cleanses and disinfects your indoor air while vigilantly tracking its quality in real-time.
Thanks to its Aura Smart Air technology, it is able to capture 99.9% of tiny airborne particles, including allergens, and shows a 99.97% effectiveness rate with flu viruses such as H1N1, H5N1 and SARS-COV2.
Smart Air tells you what's going on with your air, purifies it, and even functions as a certified regulatory carbon monoxide and smoke detector unit. Indoor and outdoor air quality is vigilantly monitored through an array of smart sensors.
Aura Smart Air filters and disinfects indoor air through a unique 4 stage purification process:
Pre-Filter filters the large particles (such as dust) to give the sensors a very accurate result.
Ray Filter that consists of three parts:
HEPA filter – 99.98% effective particle filter of 0.3 microns
Carbon layer – is intended to absorb VOC's and other bad hazards.
Copper – a copper layer that filters viruses, bacteria, and more
UV LED is a photochemical process designed to destroy and burn contaminants and dispose of various pollutants so that they can be absorbed in the filter.
Sterionizer uses a chemical process to purify and refresh the indoor air by removing the harmful pollutants mentioned above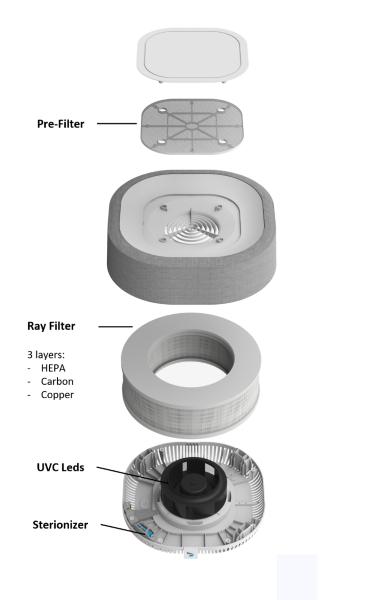 Test results and certifications
As part of the growing concern of hospital- acquired infections , in August 2019, Aura Smart Air performed a trial in collaboration with The Department of General and Oncological Surgery at The Chaim Sheba Medical Center in the implementation of air purifiers for the purpose of disinfecting and purifying the air from various pollutants.
Initial results showed a remarkable ability of a purifying device to capture of various bacteria. With the outbreak of the COVID-19 pandemic, in Wuhan, China, focus of the global medical community has changed from preventing hospital-acquired bacterial infections into preventing viral spread of SARS-CoV-2.
In May 2020, the company began a clinical experiment to test the effectiveness of Aura Air's disinfection capabilities on the Coronavirus as part of our strategic, long-term, collaboration. The aim of the trial was to quantify the properties of the Smart Air device to purify air contaminated by a Coronavirus similar in size with the SARS-CoV_2.
Read the complete test results.