At Ecomondo we talk about… material sorting and analysis systems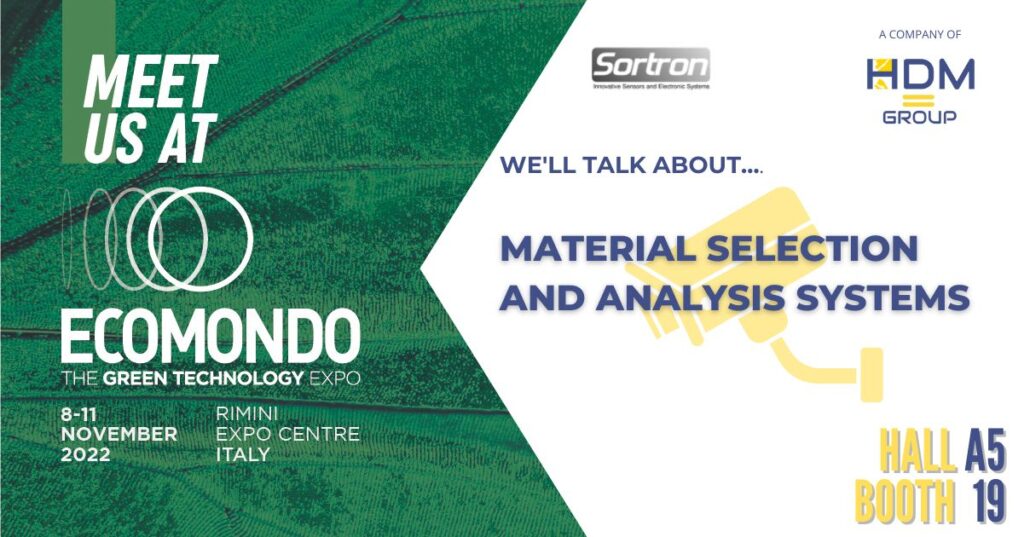 One of HDM Group's partners whose technologies you can learn more about if you visit us at Ecomondo is EVK DI Kerschhaggl GmbH.
EVK is a world leader in industrial imaging, combining innovative sensor technologies to provide valuable real-time data for industrial sorting and inspection of bulk material, by classifying data using hyperspectral and conductivity imaging technologies. EVK provides complete solutions from hyperspectral camera systems, metal sensors to data analysis and decision making to manufacturers of sorting and inspection systems.
The technologies used by EVK are:
Hyperspectral Imaging: to classify objects and/or parts of objects based on their chemical composition;
Conductivity Imaging: to detect the electrical and magnetic properties of different materials;
Sensor-fusion: to combine imaging techniques into a single module that logically couples the classification results of various individual sensors.
The areas that can benefit from EVK's proposed solutions are numerous.
It is possible to use EVK's systems, for example, in the separation of bulk material in heterogeneous waste streams.  Indeed, colour cameras can only process information in the visible light band, but EVK's NIR hyperspectral imaging systems can accurately reveal different materials based on their chemical composition. Materials can also be separated by colour, shape, size and chemical composition using Sensor Fusion, which combines colour camera and hyperspectral imaging. EVK's proposed solutions are, for example, applied in the separation of pure plastic material, to remove foreign objects (e.g., metals or different plastics), or to separate PVC from waste-derived fuels, to prevent their leakage during the combustion process.
Another sector is food processing, to which EVK offers solutions based on its proprietary hyperspectral imaging technology. They help to guarantee food safety and to maintain a high degree of quality control through real-time quantitative analysis and integrated process analysis technologies. The same technologies have been adapted by EVK to be used in pharmaceutical processing.
All of this is only a small part. If you want to know more, we will be waiting for you at the Rimini Expo Center, from November 8 to 11. Our booth is number 19 in sector A5!