At Ecomondo we talk about… Smart Waste Management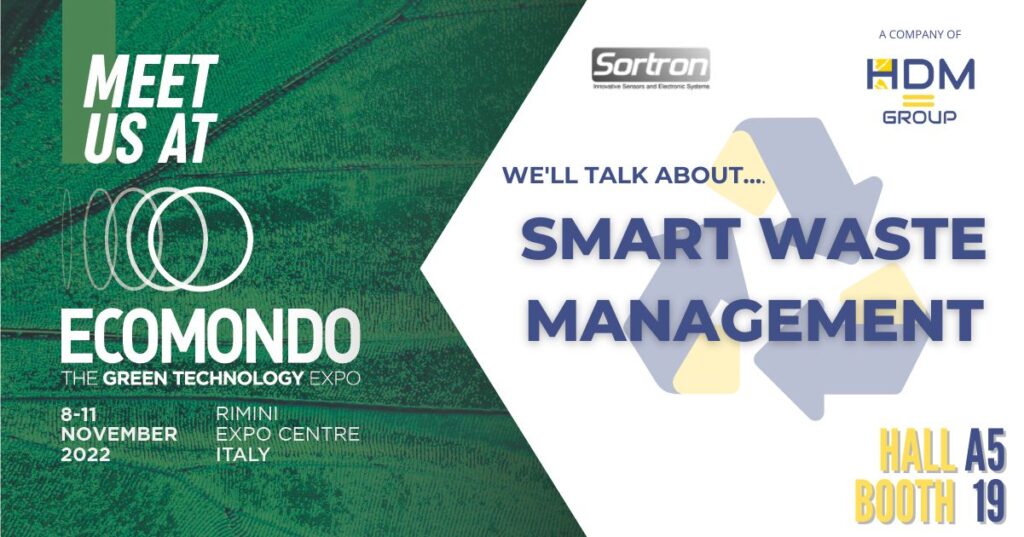 In less than two months we will be exhibiting at Ecomondo, the international trade fair taking place at the Rimini Expo Centre, from November 8 to 11.
At our booth we will talk to you about several topics, among them is Smart Waste Management. What is it about?
According to the 2020 ISPRA report, in 2019 each Italian citizen produced about 500 kilograms of waste, and its management represents an important part of the budgets that municipalities have at their disposition. Municipalities must also try to achieve sustainability goals and comply with anti-pollution regulations that increase costs even more. This is why it has become increasingly necessary to talk about Smart Waste Management, an alternative way to manage waste from a Smart City perspective.
One solution, for example, is to place network-connected sensors on the surface of dumpsters, monitoring their fill level in real time. The result is an optimization of street cleaning that, by intervening only when strictly necessary, allows a reduction in time and costs. It is also possible to understand the dynamics of waste production in cities through the use of sensors in combination with smart waste management and collection tracking.
Over the years, HDM has designed and implemented tailor-made systems to meet its customers' customization needs in Smart Waste Management. Right now, for example, it is working with a company to develop a locking system for bins. 
In addition, thanks in part to collaboration with leading companies in the industry HDM offers several products for fast and easy waste management. In the catalogue, for example, there are different types of RFID tags, RFID readers and devices for monitoring the filling level of containers.
HDM is also a partner of Sensoneo, a global provider of enterprise-wide smart waste management solutions that enable cities and businesses to manage their waste efficiently, reduce their environmental impact, and improve service quality. To find out how Sensoneo's technologies have been applied in the city of Bratislava read this article.
Are you intrigued and want to learn more? Then you just have to visit us at Ecomondo, booth 19 in Hall A5!